(hit "refresh" to get the most recent version of this page; click on photos for larger images)
former Red's Hot Dogs
Los Angeles, CA
2008:
2019:
Red's Hot Dogs opened in the late 1990s and only lasted a few years. I believe Red's was the business that installed this fiberglass hot dog on the roof. Thai Town Express moved into the building in 2007 but had moved out in 2008. In 2011, the hot dog was moved to its current location on the roof of National Promotions and Advertising, overlooking a 7-Eleven. [map]
Taxi Dogs
Seattle, WA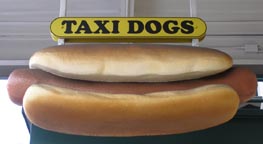 Taxi Dogs is a food stand in Pike Place market. This giant hot dog is about six feet long. [map]
Village Liquor & Market [gone]
Burbank, CA
2008:
2013:
This hot dog was installed on the roof of Village Liquor & Market. It was about six feet long. It was still there in 2016 but gone by 2018.
Giant Hot Dog
Lindstrom, MN
Giant Hot Dog
Minneapolis, MN
Hefty's Coney Island
Redford, MI
The Hot Dog in Lindstrom is installed on the roof of Deutschland Meats. [map]

The Hot Dog in Minneapolis was located inside at the Gaviidae Common Food Court when this photo was taken in 2008. I believe the food court and this statue are gone now. For more, see this website.

Hefty's Coney Island has a rooftop giant hot dog. It appears to be from a 1960s International Fiberglass mold as featured in the company's catalog. [map]
Vicious Dogs [gone]
North Hollywood, CA
Tanner's Big Orange
Greenville, SC
Stuart's Hot Dawgs
Alderson, WV
Vicious Dogs opened in 2008. This hot dog and French Fry sculpture was about 15 feet long. It was installed over the restaurant's entrance. Vicious Dogs is still there but this sculpture was removed in 2016.

Tanner's Big Orange has been around since at least the 1950s. This sign, which includes a giant hot dog, looks like it's from the 1960s. The hot dog appears to be a match for the one at Hefty's described above. It was probably also produced by International Fiberglass. [map]

The giant hot dog at Stuart's Hot Dawgs was built from a canoe and some tubing. Stuart's opened in 2005 and is located next to the Greenbrier River. [map]
Giant Hot Dog [gone]
Aberdeen, WA
Giant Hot Dog
San Bernardino, CA
The Hot Dog in Aberdeen was located on the roof of the Dog House, a hot dog stand. The business closed in 2011 and the hot dog is gone. For more, see this website.

This Giant Hot Dog is located behind the Unofficial McDonald's Museum which also doubles as the headquarters for Juan Pollo restaurants. This photo is from 2013. This hot dog sure looks like it might have come from the stand in Aberdeen. If not, it must be from the same mold.
Giant Hot Dog
Indiatlantic, FL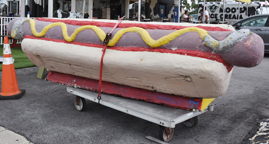 This Hot Dog is located in front of Moo's Soft Serve. It has been there since at least 2007. Moo's opened in 2000 so it might have been installed there then. [map]
Bell Plastics
Hayward, CA
Jimmy's Hog Dog Company
Bisbee, AZ
This hot dog statue at Bell Plastics arrived in 2018. I don't know where the Surf Side Grill was located. The hot dog will be restored and displayed with the numerous other statues at the business. [map]

The giant Chicago-style hot dog at Jimmy's Hot Dog Company is about 12 feet long. I believe the place opened in 2007. The giant hot dog was installed around 2010. [map]
Giant Hot Dog
Mackinaw City, MI
This Hot Dog is 63 feet long, making it the world's largest. It is installed on the roof of Wienerlicious which opened in 2014 in an adapted gas station. The hot dog was built by Ron Berman and is made of fiberglass over a steel frame. [photos thanks Mark Comstock] [map]
Pronto Pup
Rockaway Beach, OR
The Pronto Pup opened in 2016. It features a 30-foot-long corn dog on the roof. There is also a mechanical, bucking corn dog. [map]
RoadsideArchitecture.com

Copyright. All photos at this website are copyrighted and may only be used with my consent. This includes posting them at Facebook, Pinterest, blogs, other websites, personal use, etc.

Tips & Updates. If you have suggestions about places that I haven't covered, historical info, or updates about places/things that have been remodeled or removed, I'd love to hear from you: roadarch@outlook.com.