(hit "refresh" to get the most recent version of this page; click on photos for larger images)
Longhorn Restaurant
Chattanooga, TN
The Longhorn Restaurant opened in 1959. [map]
former Nikki's Drive-in
Chattanooga, TN
Nikki's Drive-in opened in 1942 and closed in 2020. This building will be demolished for a new condo development. The neon sign was gone when these photos were taken in 2021. For more, see this website. [map]
Elliston Place Soda Shop
Nashville, TN
The Elliston Place Soda Shop opened in 1939 and is the oldest, continuously operating restaurant in Nashville. In 2021, the restaurant moved next door. Many details were transferred over from the old building and others were replicated to keep the feel of the original space. The neon sign was replicated by Joslin & Son Signs. For more, see this website. [map]
Tops Bar-B-Q
3353 Summer Ave.
Memphis, TN
Tops Bar-B-Q
4183 Summer Ave.
Memphis, TN
Tops Bar-B-Q was founded in 1952 and they now have 14 locations, 11 of them in Memphis. The two shown here, both on Summer Ave., are their oldest remaining locations. The second location is housed in a former Roy Rogers building. For more, see this website. [3353 Summer map]; [4183 Summer map]
Bobbie's Dairy Dip
Nashville, TN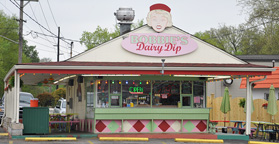 Bobbie's Dairy Dip has been around since 1951. It was originally known as Harper's. It was renamed by new owners in 1986. [map]
Dairy King Drive-in [gone]
Nashville, TN
The Dairy King Drive-in opened here in the late 1940s. After flooding in 2010, the business moved to a new location. The building and sign were still there when these photos were taken in 2010. There were both gone by 2016.
RoadsideArchitecture.com

Copyright. All photos at this website are copyrighted and may only be used with my consent. This includes posting them at Facebook, Pinterest, blogs, other websites, personal use, etc.

Tips & Updates. If you have suggestions about places that I haven't covered, historical info, or updates about places/things that have been remodeled or removed, I'd love to hear from you: roadarch@outlook.com.