(hit "refresh" to get the most recent version of this page; click on photos for larger images)
John's Drive-in [gone]
Florence, SC
John's Drive-in was built in the 1950s and featured canopies in front of and behind the restaurant. By 2009, it was gone. [photo thanks Robby Delius]
Beacon Drive-in
Spartanburg, SC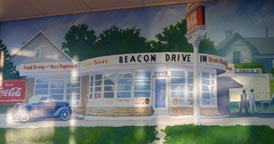 The Beacon Drive-in opened in 1946 with a nice Streamline Moderne building. Somewhere along the line, it expanded by moving here. It is supposedly the second largest drive-in in the U.S. and claims to serve more iced tea than any restaurant in the world. There are car hops, indoor and outdoor seating. The menu is extensive and food production in full view. This drive-in sometimes serves 5,000 customers a day. In 1999, they added the Beacon Dairy Bar, an ice cream counter. [map]
Sugar N Spice Drive-in
Spartanburg, SC
The Sugar N Spice Drive-in opened in 1961. They are known for their roast beef sandwiches and also offer Greek food in addition to the usual burger stand fare. For more, see this website. [map]
Caravan Drive-in [gone]
Greenwood, SC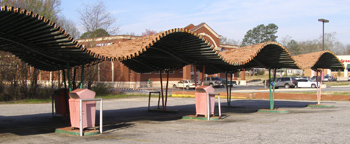 The Caravan Drive-in opened in 1962. It featured the same style canopy as the Sugar N Spice Drive-in above. It was also quite similar to the ones at the Dairy Freeze in Mount Sterling, OH and the Daly Drive-ins in Michigan. The Caravan Drive-in had been closed since at least 2017. It was demolished around 2020.
301 Drive-in (now The Drive-in)
Florence, SC
The 301 Drive-in opened in 1957 and was named after Route 301 where it was located. It featured a great folded plate canopy and car hops. In 2006, the canopy was demolished and a larger building was constructed. They have reopened as "The Drive-in", however, they have kept this vintage sign. For more, see this website. [map]
Sky View Drive-in
Florence, SC
The Sky View Drive-in opened in 1958. The sign features a Sputnik ball. A fire devastated the building in 2008. Around 2009, the building was demolished. As of 2022, the sign remains on the vacant lot. [map]
RoadsideArchitecture.com

Copyright. All photos at this website are copyrighted and may only be used with my consent. This includes posting them at Facebook, Pinterest, blogs, other websites, personal use, etc.

Tips & Updates. If you have suggestions about places that I haven't covered, historical info, or updates about places/things that have been remodeled or removed, I'd love to hear from you: roadarch@outlook.com.