(hit "refresh" to get the most recent version of this page; click on photos for larger images)
The Planters Peanuts Company was established in 1906 in Wilkes-Barre, Pennsylvania. The Mr. Peanut character was developed in 1916 and has been used in advertising since then with only a little bit of updating. The company opened hundreds of Planters Peanut Shoppes in the 1930s and 1940s. By 1960, there were stores in more than 200 cities in the United States. The most famous stores in New York City's Times Square and the Atlantic City Boardwalk featured incredible neon signs. In 1961, Planters was acquired by Standard Brands which was not interested in the retail business. The stores were either closed or sold. About a dozen stores continue to operate independently in the eastern United States.
Peanut Shoppe
Memphis, TN
2003:
2019:
This Peanut Shoppe opened a Planters Peanuts shop next to the Strand Theatre 1949. Sometime, after 1970, the store moved to this location. The neon sign was probably built then. This Memphis shop roasts its own peanuts daily. The roaster with the Mr. Peanut on top is original. The shop also sells other candies and nuts and has a nice collection of vintage Planters items. Sometime after 2013, the neon sign was removed and replaced with a canopy. In 2022, the store was about to move a few doors away. The plastic sign which was built in the mid-1990s was put up for sale. For more, this website. [map]
Peanut Shoppe [gone]
Memphis, TN
This Peanut Shoppe opened in 1959 as a Planters Peanuts shop. The building was still basically intact, inside and out. There was once a giant neon sign of Mr. Peanut. This store closed in 2017.
The Nashville Peanut Shop opened in the Arcade in 1927 as Planter's Peanuts 12th store. It was renamed in 1962. For more, see these websites: 1 and 2. [map]
A&M Peanut Shop
Mobile, AL
The A&M Peanut Shop was originally part of the Planters Peanut chain. It opened in 1947 as store #135. The store's nuts are roasted on-site in a machine from 1907. They also sell a full range of candies and have lots of old photos of downtown Mobile on display. The building itself is from 1886. [map]
This Peanut Shoppe was another former Planters store. It was located in the Renaissance Centre downtown. There were many vintage Planters items inside the store. The store closed in 2020 but the sign remains. The space now houses a market. [map]
M&D-R-Nuts opened in 1923 as Planters Peanuts shop #51. M&D-R-Nuts has been here since around 1987. The Planters peanut roaster is still in use. [map]
The Peanut Shop
Lansing, MI
Peanut Shoppe [gone]
Huntington, WV
The Peanut Shop in Lansing opened as Planters store #58 in 1937. The interior is nicely preserved and features two Planters roasters which are still in use. For more, see [map]

The Peanut Shoppe in Huntington opened in 1924 as Planters Peanut's store #109. These photos are from 2007. The store closed around 2009 and the space now houses a massage parlor.
Peanut Shoppe
Charleston, WV
This Peanut Shoppe opened in 1950 as Planters Peanut's store #144. In 1960, the store changed owners and its name. The peanut roaster is still in use. [map]
Peanut Shoppe
Columbus, OH
This Peanut Shoppe opened in 1936 as store #42. This sign was built then. The store moved in 1978 and 2014. All three locations have been just a few blocks apart on High St. The neon sign is about 12 feet tall and features red and pink neon. It is the only sign featuring Mr. Peanut still on public display at a former Planters store. During the Columbus sign's restoration in 2014, the opal glass feature behind Mr. Peanut's monocle was repaired. It was backlit originally by a bulb inside the sign. The sign shop also added a flashing mechanism to create the effect that Mr. Peanut is winking. In addition to the store's wide range of nuts and candies, it also features a large display of Planters Peanut collectibles and original roasting machines. For more, see this website. [map]
Peanut Shoppe
Springfield, OH
This Peanut Shoppe opened here in 1937 as store #50. The original peanut roaster is still in use. For more, see this website. [map]
Boardwalk Peanut Shoppe [gone]
Atlantic City, NJ
Planters Peanuts opened its 28th store on the Atlantic City Boardwalk in 1930. It closed in 1978 and was eventually replaced with the Trump Taj Mahal. Some or all of the neon signs are believed to be in a private collection. The Boardwalk Peanut Shoppe opened in 1972 and carried on the tradition. They used the original Planters roasters and sold lots of Planters Peanuts collectibles. This store is gone now. There was also a Mr. Peanut statue on the north end of the Boardwalk which is no longer on public display.
This Mr. Peanut sign once stood on at the Planters store on Route 1 in Peabody, MA. By the late 1960s, the store had closed and the sign was altered for the Half Dollar Bar. The bar closed in the 1980s and the sign was moved here and restored in 1988. The sign, which is about 30 feet tall, was also manufactured and installed at other Planters locations but I believe this is the only one left. The Fort Smith location is a processing plant which opened here in 1976. There is also a neon text sign on the roof of one of the buildings and smaller Mr. Peanut figures on the fencing at the entrance to the property. The seated, photo-op Mr. Peanut was installed around 2016. His pose is similar to the statue that was in Atlantic City, NJ. For more, see these websites: 1 and 2. [map]
Planters
Peanut Store [gone]
unknown city, MA
Planters Peanut Store [gone]
near Richmond, VA
These two stores featured giant Mr. Peanut signs like the one described in Fort Smith above. The sign from Massachusetts shown above is not the same as the one that was in Peabody, MA. It might have been the one that was in Swansea, MA.
More former Planters Peanuts stores, buildings, etc.:
San Francisco, CA [gone]
Baltimore, MD
Ocean City, NJ [gone]
Akron, OH [map]
Wilkes-Barre, PA: 1, 2, 3 [factory & signs gone]
Chattanooga, TN [gone]
Suffolk Peanut Center: 1, 2 (Suffolk, VA) [map]
former Planters Peanut factory (Suffolk, VA)
Obici House (Suffolk, VA)
Peanut Mobiles: 1, 2
Peanut Pals
Peanut Depot
Birmingham, AL
The Peanut Depot opened here in 1907. They offer peanuts, and peanuts only, in four varieties: salted, unsalted, boiled, and Cajun. The roasting ovens are the originals. In the 1930s or 1940s, the business moved slightly down this cobblestoned street. These photos are from 2007. The store is now known as the Alabama Peanut Co. For more, see these websites: 1, 2, and 3. [map]
Holland Peanut Store
Holland, MI
Dome's Nut Shop [gone]
Lima, OH
Morrow's Nut House [gone]
San Francisco, CA
The Holland Peanut Store was established 1902. The store moved here in 1972. For more, see this website. [map]

Dome's Nut Shop had been here about 100 years until it closed in 2020. It was never affiliated with Planters.

Morrow's Nut House opened here in 1938. It closed in 2008 just after these photos were taken. There is a hat shop in the building now. By the 1950s, Morrow's had seven locations in San Francisco. It became a nationwide chain. It's not clear how many locations there were or when the company was first established. There are other surviving locations around the country including the one in Cape May, NJ. For more, see these websites: 1 and 2.
St. Laurent Bros. Nut House
Bay City, MI
The Nut House
Claremore, OK
St. Laurent Bros. has been roasting nuts since 1904. I don't know when the company's "Nut House" store opened. I believe candies are still produced on the second floor. [map]

The Nut House in Claremore opened in 1978 selling locally-grown pecans. The log cabin like building is faced with pecan wood. The store now sells a full range of nuts, candies, and gifts. [map]
Perry's Nut House
Belfast, ME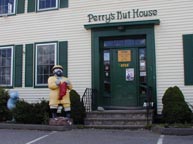 Perry's Nut House opened in 1926. It closed in 1997 but reopened in 1998. For more, see this website. [map]
Krema Nut Company
Columbus, OH
The Krema Nut Company was established in 1898. This store sells nuts, butters, chocolates, candies and other snacks. Windows allow customers to watch the nuts being roasted and candies being made. The store used to have a "Krema Mobile" station wagon with a giant peanut on the roof. It also had a cashew hood ornament. The car was retired around 2007. For more, see this website. [map]
RoadsideArchitecture.com

Copyright. All photos at this website are copyrighted and may only be used with my consent. This includes posting them at Facebook, Pinterest, blogs, other websites, personal use, etc.

Tips & Updates. If you have suggestions about places that I haven't covered, historical info, or updates about places/things that have been remodeled or removed, I'd love to hear from you: roadarch@outlook.com.