(hit "refresh" to get the most recent version of this page; click on photos for larger images)
La Cita Restaurant
Tucumcari, NM

2006:
The La Cita Restaurant opened in 1940. In 1961, the restaurant moved to this location and brought along this sombrero-shaped pole sign. The building's sombrero entrance was added later. The pole sign was restored in 2002. It was repainted the original red and black. The motor was repaired enabling the sign to revolve as it did originally. The neon and chasing bulbs were also restored. After the sign's restoration, the building was also repainted. It has been many different colors over the years, including pink. In 2019, the sign was repainted red and black again. For more, see these websites: 1, 2, 3, and 4. [map]
Ken's Ice Cream
Tucumcari, NM
2006:
2012:
2017:
The Ken's Ice Cream sign appears to be from the 1950s or 1960s. The ice cream cone was probably added in the 1960s. The cone disappeared for a while after the business closed around 2012. A few years later when the business reopened, the cone was recovered and installed on the ground next to the sign. By 2020, the cone was gone and the place was closed. For more, see this website. [map]
Pancake Alley Diner
Las Cruces, NM
The Pancake Alley Diner opened in 1969. The building also housed a key store at that time. There were neon letters along the roofline originally that read "Pancakes" and "Chicken". These photos are from 2012. The restaurant closed in 2018 and the building has been vacant since then. For more, see this website. [map]
Chat & Chew
Shiprock, NM
shaved ice stand [gone]
Kirtland, NM
The Chat & Chew looks like it has been here since at least the 1960s. [map]

This shaved ice stand on a trailer did not appear to be in use when this photo was taken in 2017. By 2018, it was gone and there was a less-interesting shaved ice stand there.
Chef Bernie's
Farmington, NM
Chef Bernie's opened in 1967 and features Mexican and American food. [map]
former Sherm's Coffee Shop
Albuquerque, NM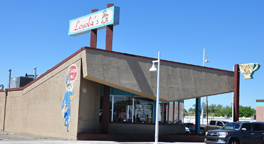 Sherm's Coffee Shop was named after the owner, Sherman C. Anderson. The building was designed by Ferguson-Stevens and Associates. There may have been input from Armet & Davis. The restaurant opened in 1958. The building began housing Kap's Coffee Shop in 1967. It now houses Loyola's Family Restaurant. This sign was built and installed around 2011. For more, see this website. [map]
Lucky Boy Restaurant
Albuquerque, NM
The Lucky Boy Restaurant opened in 1968. The signs were repainted around 2015. These photos are from 2017. For more, see these websites: 1 and 2. [map]
Blake's Lotaburger
Las Cruces, NM
Blake's Lotaburger
Central Ave.
Albuquerque, NM
Blake's Lotaburger
Gallup, NM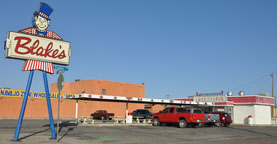 Blake's Lotaburger
Washington St. NE
Albuquerque, NM
Blake's Lotaburger
Coors Blvd.
Albuquerque, NM
Blake's Lotaburger was founded in 1952 by Blake Chanslor who built the first location in Albuquerque. There are now about 76 locations in New Mexico, about half of them in Albuquerque. The Central Ave. and Coors Blvd. locations shown above are older locations which have outdoor tables with umbrellas. The Washington St. location is from 1953 and is the oldest survivor of the chain. It has two car hop canopies. The Gallup location appears to be from the 1950s or 1960s. I believe Blake's color scheme has always been red, white and blue. The "Blake's Man" plastic sign is about 10-15 feet tall with poles for legs. The Las Cruces location has a modern version of the plastic sign. For more, see this website.

[Las Cruces map]
[Gallup map]
[Central Ave. map]
[Washington map]
[Coors map]
RoadsideArchitecture.com

Copyright. All photos at this website are copyrighted and may only be used with my consent. This includes posting them at Facebook, Pinterest, blogs, other websites, personal use, etc.

Tips & Updates. If you have suggestions about places that I haven't covered, historical info, or updates about places/things that have been remodeled or removed, I'd love to hear from you: roadarch@outlook.com.