(hit "refresh" to get the most recent version of this page; click on photos for larger images)
These Michigan burger restaurants look like stripped-down White Tower restaurants. They share extensive use of white porcelain enamel tiles, both inside and out, counters and stools, as well as tiny and cheap burgers. While the burger stands shown on this page were never part of the White Tower or White Castle chains, they were certainly inspired by them. By the late 1940s, there were hundreds of White Towers nationwide. I believe the buildings shown here were all built in the 1950s. This phenomenon was unique to the Detroit area. For more, see this website.
Bates Hamburgers
Livonia, MI
Bates Hamburgers opened in 1959. There is another location in Farmington Hills but it appears to be newer. That building is not clad in white porcelain enamel panels. [map]
Greene's Hamburgers
Farmington, MI
There were several Greene's Hamburgers in the Detroit area but this is the only one left. This location opened in 1957. [map]
Hunter House Hamburgers
Birmingham, MI
Cobb's Hamburgers (now Brown's Kitchen)
Detroit, MI
2005:
2011:
Cobb's Hamburgers became Olga's Coney Island sometime after 2005. The building was repainted. By 2015, the porcelain enamel panels had been removed or covered up and the building had been remodeled for Brown's Kitchen. The building now houses Detroit Let's Eat. A coney island is a regional name for a chili dog. [map]
Brayz Hamburgers
Hazel Park, MI
The first Brayz Hamburgers opened as "Bray's" in 1950 in Garden City, MI. The owners were Gordon and Roy Bray. Eventually, there were eight locations.

This Hazel Park location originally went by Bray's name. In the 1970s, the chain was taken over by Gordon Bray's son, Phil Bray, who owned it until the 1980s. After that it was taken over by Gordon Bray's other two sons: Marc (who owned the Hazel Park location) and John (who owns the Westland location). The Hazel Park location's name was changed to "Bray'z Hamburgers" in the 1990s. The donkey holding a burger and cup on the roof is part of the chain's original design. The 10-foot-tall statues were produced by Ben Robinson of the Plycrete Mold Co. The original sculpture from which the mold was made was created by Elmer Johnson. [map]

The only other "Brays" donkey statue left on public display is in Westland, MI. Although the building was replaced, the rooftop donkey was saved. Buster is now displayed inside.
former Bud's Hamburgers
Romulus, MI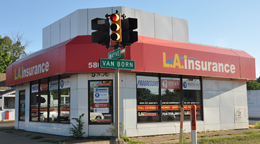 This former Bud's Hamburgers now houses an L.A. Insurance office. This location must have been part of the Bray's chain originally. There was a donkey statue on the roof like the one shown above. [map]
Carter's Coney Island
Lincoln Park, MI

2005:
2011: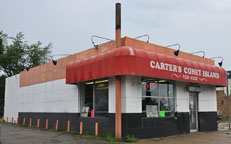 Carter's Coney Island was originally Carter's Hamburgers. The "Carter's Hamburgers" sign was just barely readable under the white paint in 2005. For an earlier view of the sign, see this website. By 2011, the sign was gone. By 2013, the building was housing Harry's Corned Beef & Ham. [map]
Carter's Hamburgers
Dearborn, MI
Elmer's Hamburgers
Detroit, MI
former Royal Coney Island
Detroit, MI
This Carter's Hamburgers is also known as Carter's #3. In addition to the one in Lincoln Park described above, there were nearly a dozen Carter's locations. I believe this one in Dearborn opened in 1950. [map]

From the altered sign on the building, it appears that Elmer's Hamburgers started out with another name. Many of these chains used the word "systems" in their names. It meant that their burgers were prepared systematically: quickly and the same way every time. This was the early days of fast food and chains like McDonald's bragged about their "Speedee Service System". [map]

The Royal Coney Island housed a pawn shop when this photo was taken in 2009. The building had been vacant since at least 2011. By 2018, the building was housing the King of Finance. By 2019, that business had closed. The building now houses Skyline Hookah & Tobacco. [map]
Sonny's Hamburgers
Redford, MI
Sonny's Hamburgers has more glass than the other buildings shown here. [map]
Telway Hamburgers
Detroit, MI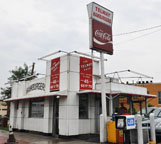 The Telway
Madison Heights, MI
The Telway Hamburgers in Detroit supposedly opened in 1944. That sounds a bit too early for this building style. [map]

The Telway in Madison Heights opened in 1959. [map]
Giant System
Dearborn Heights, MI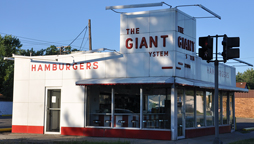 The Giant System opened around 1950. These photos are from 2011. The building has been vacant since at least 2015. The "Giant System" signs are gone. [map]
RoadsideArchitecture.com

Copyright. All photos at this website are copyrighted and may only be used with my consent. This includes posting them at Facebook, Pinterest, blogs, other websites, personal use, etc.

Tips & Updates. If you have suggestions about places that I haven't covered, historical info, or updates about places/things that have been remodeled or removed, I'd love to hear from you: roadarch@outlook.com.