(hit "refresh" to get the most recent version of this page; click on photos for larger images)
The brothers Maurice and Richard McDonald opened their first restaurant in 1940 in San Bernardino, CA. It was a BBQ stand which featured car hops. In 1948, the brothers made the switch to hamburgers and invented the self-serve Speedee System with walk-up window service. The first building to include the twin golden arches was built in Phoenix, AZ. It opened on May 15, 1953 but was demolished long ago. The second Golden Arches building was built in North Hollywood, CA on Victory Blvd. It opened on August 1, 1953. While that location was licensed by McDonald's, it operated as Peaks. That building is gone now. There were three other Peaks locations licensed by McDonald's (Pasadena, Norwalk, and Monterey Park) which I believe are also gone. The third Golden Arches style building opened in Downey, CA on August 18, 1953. That building is still there and is the oldest operating McDonald's. Another location in North Hollywood and Alhambra, CA were built in 1953. In 1954, more California locations were built in Alhambra, Sacramento, Azusa, and Pomona. Older buildings were also retrofitted to include Golden Arches as well. The McDonald brothers sold the company to Ray Kroc in 1954. Today, there are over 25,000 McDonald's locations worldwide. For more about McDonald's history, see these websites: 1, 2, 3, and 4.
In 1953, the McDonald brothers opened this McDonald's, their fourth location. It is the oldest, still-operating example of the chain. The glass-fronted building features the classic Golden Arches design with red and white striped tile. It also features a 60-foot-tall Speedee the Chef neon sign which was built in 1959. This was the only sign built with this design. The circle on the sign panel originally displayed the cost of a hamburger (originally 19 cents).

After severe damage from the Northridge earthquake, the building was nearly demolished in 1994. However, with public support and publicity generated by the Los Angeles Conservancy Modern Committee, this McDonald's reopened in 1996. The building was left intact with its walk-up windows and outdoor seating. A separate building houses a museum, gift shop, and restrooms. For more on this location, see this website. [map]
McDonald's
Lewiston, ID
This modern McDonald's was modeled after the early walk-up building design. For more of these "retro" designs, see this page. The modern sign at this location is the only one that I know of which was modeled after the one at the Downey location (described above) which was unique. This building and sign have been here since at least 2006. These photos are from 2016. For more, see this website. [map]
former McDonald's
Pomona, CA
This former McDonald's was built in 1954 as the seventh location in the chain. It closed in 1968. The building has housed AMA Donuts since at least 2004. The top part of the golden arches have been removed from the building and the sign has been significantly altered. This sign style preceded the other remaining vintage Speedee signs. None of these remain intact. They originally looked like this one. Note that Speedee held a hamburger in these early signs. For lack of any other name for these signs, I will call them "double circle" signs. I believe this is the one sign like this left. [map]
former McDonald's [gone]
Los Angeles, CA
2008:
2012:
This former McDonald's housed Tacos El Gavilan since at least 2003. I believe this location was built in 1956. This rare "double circle" sign was missing the arch which would have supported the sign and extended over the top like the one in Pomona shown directly above. The sign's arch was still there in the 1970s when the building housed Spots Hamburgers. Around 2010, the top part of the arches were removed from the building. In 2016, the building and sign were demolished. For more, see these websites: 1 and 2.
former McDonald's [gone]
Des Plaines, IL
In 1955, after the Ray Kroc buy-out, this restaurant was built as McDonald's #1. Kroc based this building's design on the one in Downey, CA. The building was remodeled several times and then demolished in 1984. It was recreated from original blueprints. The Speedee sign was supposedly original. However, I had my doubts. The main red text panel had modern looking wrap-around metal on the sides. I had also heard from a McDonald's historian that this sign came from Indiana.

This location no longer served food but it was used as the official McDonald's Corporation Museum. Male mannequins wore the 1955 uniform (dark pants, white shirts, aprons and paper hats). The customer service and food preparation areas had original equipment that were used back when fresh potatos were used for the fries, milkshakes were made with Multi-mixers, and Coca-Cola and root beer were drawn from a barrel. The basement had old photos, advertising, memorabilia, and a video presentation. The menu board had crests like those on the McDonald's signs from 1962 (see next page). In 2018, McDonald's corporate removed the sign and arches from the building. McDonald's put them in storage for now. The building was dismantled and the lot will be turned into a park. For more, see this website.
former McDonald's [gone]
Portland, OR
This McDonald's building was built around 1962 and was in use until 1980. The interior had been remodeled and the vintage sign was long gone. There was a modern McDonald's located directly behind this building. The vintage building was rented out for meetings and parties. In 2018, this building was demolished.
McDonald's
San Jose, CA
This still-operating McDonald's retains much of its original look and has a "skinny M" sign. It was built in 1962. This illustration from 1967 shows the same style building with concave roofline and double arches. A new structure was added to the back of this building and the dining room in front was also a later addition. In 2018, the sign panels of the "skinny M" sign were replaced. There is no longer the word "Hamburgers" nor mention of "Billions Served." For more, see this website. [map]
former McDonald's
Atlanta, CA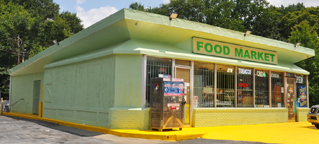 This former McDonald's may have been built in 1964. The building now houses a Food Market. [map]
former McDonald's
Long Beach, CA
This former McDonald's now houses an Original Tommy's Hamburgers. I believe this location was built in 1962. The backside of the building still retains the red and white tiles. The Tommy's sign supports are probably adapted from the original McDonald's sign. This is still a walk-up stand with no indoor seating. [map]
former McDonald's
Compton, CA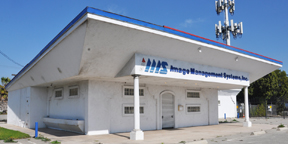 This former McDonald's is still recognizable as an early location despite its makeover for Image Management Systems. For more, see this website. [map]
former McDonald's
Dallas, TX

2008: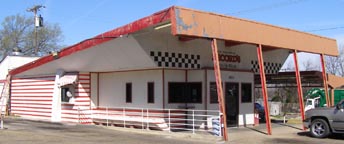 This former McDonald's was supposedly the first location built in Texas. The still has the bottom part of the Golden Arches. The building was used as a used car lot office for years. It now houses Record's Barbecue. In 2016 or 2017, the left part of the building was remodeled a bit and more of the original building has been concealed. [map]
former McDonald's
Marshall, TX
This building which now houses Mr. Donuts & Kolaches appears to be a former McDonald's. The building still features lower portions of the Golden Arches. Around 2000, the building housed Toddy's Hamburgers. These photos are from 2011 and 2018. [map]
former McDonald's
Phoenix, AZ
This former McDonald's was built in 1957. The building never had golden arches. It now houses Jimmy Jack's Drive-in. [map]
former Chuck Burgers
North Hollywood, CA
This former Chuck Burgers was built in 1961 as a McDonald's copycat design. The striped tiles on the back of the building were red and black. McDonald's only used red stripes. The building now houses Kebab & Beyond. For more, see these websites: 1 and 2. [map]
RoadsideArchitecture.com

Copyright. All photos at this website are copyrighted and may only be used with my consent. This includes posting them at Facebook, Pinterest, blogs, other websites, personal use, etc.

Tips & Updates. If you have suggestions about places that I haven't covered, historical info, or updates about places/things that have been remodeled or removed, I'd love to hear from you: roadarch@outlook.com.