(hit "refresh" to get the most recent version of this page; click on photos for larger images)
The first Hardee's restaurant opened in 1960 in Greenville, NC. The company's original buildings had a sloping roof design and looked very much like early McDonald's buildings. By 1965, Hardee's had 70 locations. Their scalloped roof building design is from around 1965. The signs mimicked the building's roof line. The design is somewhat similar to the Big Top convenience store chain. All of these mid-1960s Hardee's buildings probably had the steeples shown in these vintage photos and advertisements. For more, see these websites: 1, 2, and 3. [1965 ad & Concord scans thanks Robby Delius; Atlanta photo thanks Twig Gravely]
former Hardee's
Fredericksburg, VA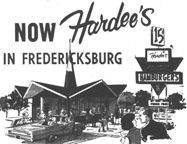 This Hardee's opened in 1964. The building was later occupied by Captain Sid's Seafood & Deli. When these photos were taken in 2010, the building was vacant. By 2012, the building was occupied by the Family Diner. That business closed in 2014. By 2016, the building was housing the Mason Dixon Cafe. [1964 scan thanks Robby Delius] [map]

Only a few Hardee's were built with this style zigzag roof. The only other existing building that I know of is in Fayetteville, TN.
Hardee's in 1965 [gone]
Concord, NC
Hardee's [gone]
Concord, NC
Hardee's [gone]
Atlanta, GA
All of the surviving Hardee's restaurants built in this style have either been demolished or adapted for other businesses.
former Hardee's [gone]
Columbus, GA
This Columbus building was one of the most intact survivors of this building style. It was demolished by 2019. I believe that leaves the one in Fayetteville, TN mentioned above and the location in Cayce, SC at the bottom of the page as the only two Hardee's buildings left with steeples. This location was built in or slightly before 1965. It last housed Thornton's BBQ.
former Hardee's
Columbus, GA
2006:
2010:
2021:
This Columbus building has housed the Victory Barber Shop since at least 2007. Between 2007 and 2010, an addition was made to the right side of the building. [map]
former Hardee's [gone]
Blacksburg, VA
former Hardee's
Dallas, TX
This Blacksburg Hardee's building housed a travel agency when this photo was taken around 2006. The building was demolished soon after that. This 1960s photo shows what this location looked like originally. [photo thanks Twig Gravely]

This Dallas Hardee's was built in 1967. The steeple has been removed and a flat roof added. The building has housed JC's Car Wash since at least 2008. There were seven other Hardee's built but I don't believe any other buildings like this survive. [map]
former Hardee's
Charleston, SC
This former Hardee's was occupied by the Blanche Darby Florist for many years. The exterior was intact but the interior was remodeled. The sign was adapted. These photos are from 2007. In 2010, the entire building with the exception of the roof was demolished. The sign was adapted for East Bay Deli which is now located on the property. [map]

There is another former Hardee's building in Orangeburg, SC which has been altered for the China Express restaurant. [map]
former Hardee's
Fredericksburg, VA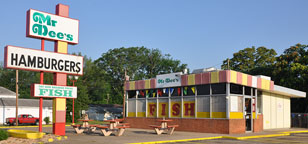 This former Hardee's housed Mr. Dee's Hamburgers for many years. The sign was adapted. It was closed in 2018. The building was still boarded up in 2019. This vintage photo shows what this location would have looked like originally. [map]
RoadsideArchitecture.com

Copyright. All photos at this website are copyrighted and may only be used with my consent. This includes posting them at Facebook, Pinterest, blogs, other websites, personal use, etc.

Tips & Updates. If you have suggestions about places that I haven't covered, historical info, or updates about places/things that have been remodeled or removed, I'd love to hear from you: roadarch@outlook.com.