(hit "refresh" to get the most recent version of this page; click on photos for larger images)
Shake Pit
Bradenton, FL
The Shake Pit opened in 1959. The building was constructed in 1958 when it opened as a Quaker Maid restaurant. This canopy in front was added to the walk-up stand later. For more, see this website. [map]
Doc's All American
Delray Beach, FL
Doc's All American opened in 1951 as a Dairy Queen. In 1963, it became Doc's Soft Serve and this sign was installed then. It remained an ice cream stand until 1980 when it added hot dogs and sandwiches. The name and sign were changed to Doc's All American then. The business closed in 2021. In 2022, it was still uncertain if the place would reopen. For more, see these websites: 1, 2, and 3. [map]
Legends Cafe
Fruitland Park, FL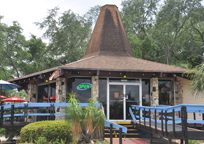 Legends Cafe has occupied this building since around 2013. It was built in 1971 and originally housed the Leesburg Welcome Station. It housed a Chamber of Commerce in the 1990s. [map]
former Milligan's Beefy-Burgers
Jacksonville, FL
The first Milligan's Beefy-Burgers opened in Starke in 1942. In 1950, business expanded to Jacksonville. At least 10 Jacksonville locations had been built by 1967. They had all closed by 1974. There were at least three locations in Orlando by 1958. This location was built in 1972. The building has housed Warren Motors since around 2014. The building's original giant "M" remains. There is another surviving building with the "M" in Jacksonville from 1962. There were other locations in Green Cove Springs, Fernandina Beach, and St. Petersburg. For more, see this website. [map]
Sandwich House
Jacksonville, FL

This building has housed the Sandwich House since at least 1979. Does anyone know what was here originally? [map]
French Bistro and Pastries
Jacksonville, FL

The French Bistro and Pastries building sure looks like it was built at the same time as the Sandwich House above. It was built in 1965. [map]
Bamboo Sports Bar & Grill
Jacksonville, FL

This building housed the Bamboo Sports Bar & Grill for a few years but has been vacant since at least 2015. It was built in 1963. I don't know what chain this was but it appears to be the same design as the two buildings above. [map]
former Kristine's Restaurant
Lake Worth, FL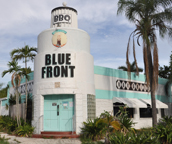 Kristine's Restaurant opened here in 1948 and operated until at least the mid-1990s. The building later housed the Jetsetter Lounge. From around 2014-2019, it housed the Blue Front Bar & Grill. It remains vacant. For more, see these websites: 1, 2, and 3. [map]
S&S Sandwich Shop
Miami, FL
2005:
2020:
The S&S Sandwich Shop, aka the S&S Restaurant, opened in 1938. The building was listed on the National Register of Historic Places. By 2014, the projecting plastic sign had been removed. Backlit red plastic letters for the S&S Diner were installed above the entrance. Those letters are gone now. The building has been vacant since 2017 and more of the vitrolite tiles on the facade are missing. [map]
former restaurant
Miami, FL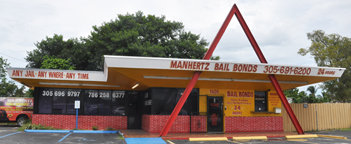 This former restaurant was built in 1963 as a Big Burger. The building has housed Manhertz Bail Bonds since at least 2011. Does anyone know what restaurant was here originally? [map]
Hob Nob Drive-in
Sarasota, FL
2009:
2021:
The Hob Nob Drive in opened in 1957. There were originally roller-skating car hops. The neon sign on the rooftop projection was removed sometime between 2011 and 2014. For more, see this website. [map]
Bob's Train
Sarasota, FL

Bob's Train is a restaurant created with four train cars. The oldest car was built in 1916 for the Ringling Bros. and Barnum & Bailey Circus. The interior of the restaurant is filled with circus memorabilia. It opened in 2007. For more, see these websites: 1 and 2. [map]
Gayle's Restaurant
St. Pete Beach, FL
Gayle's Restaurant opened in 1954. In 2022, the building began housing Wanda Gail's Diner. [map]
former Triplett's Drive-in
St. Petersburg, FL

Triplett's Drive-in opened in 1946 and closed in the early 1980s. The building now houses the Bula Kava Bar and Coffee Shop. [map]
former Skinner's Fried Chicken
Tallahassee, FL
The former Skinner's Fried Chicken was built in 1970 for the Mahalia Jackson Chicken restaurant. The building has housed Olean's Cafe since 1996. [map]
MoonLight Drive-in
Titusville, FL
2009:
2021:
The MoonLight Drive-in was built in 1964. The sign's neon was replaced with plastic around 2021. For more, see these websites: 1 and 2. [map]
Howley's Restaurant
West Palm Beach, FL
Howley's Restaurant was built in 1950. There was originally a neon and bulb sign. It read "Cooked in Sight, Must Be Right." For more, see this website. [map]
Taco Amigo
Zephyrhills, FL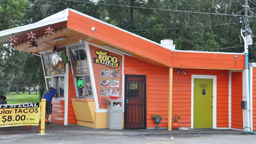 Taco Amigo has occupied this building since 2018. The building was built in 1960. It looks similar to a Carvel but I don't think it ever was. It has housed many different restaurants over the years but I don't know what it was originally. [map]
RoadsideArchitecture.com

Copyright. All photos at this website are copyrighted and may only be used with my consent. This includes posting them at Facebook, Pinterest, blogs, other websites, personal use, etc.

Tips & Updates. If you have suggestions about places that I haven't covered, historical info, or updates about places/things that have been remodeled or removed, I'd love to hear from you: roadarch@outlook.com.