(hit "refresh" to get the most recent version of this page; click on photos for larger images)
Burger King was founded in 1953 and had over 100 locations by 1965. For more, see this website.
Burger King
Naperville, IL
This Burger King seems to be a well-preserved original building most likely from the late 1950s. I don't believe there are any others left like this. Inside the restaurant is this poster showing the early design. None of these fantastic neon signs left, at least not on public display anywhere. For more, see these websites: 1, 2, and 3. [map]
Burger King
Quincy, MA
Burger King
Pennsville, NJ
Burger King [gone]
Renton, WA
This Burger King in Quincy appears to be a remodeled example of the early design (see above). I don't know of any other examples of this building design. [map]

I believe the castle design of this Burger King in Pennsville is unique. I believe it was built in the 1970s or 1980s. It houses a Kids Club play area. [map]

This Burger King in Renton was unique. I don't know when it was built. This photo is from 2015. The building was completely remodeled in 2016 and is now a boring box.
Burger King [gone]
Buena Park, CA
This Burger King was another castle-themed location. The design might have been influenced by the Medieval Times across the street which opened in 1986. In 2019, this location closed and began housing a Starbucks. The building's castle features are gone.
Taco Bell was founded in Irvine, CA in 1962 by Glen Bell. The first location was built in Downey, California. By 1967, there were 100 locations. By 2018, there were over 7,000 locations. For more, see this website.
former Taco Bell [gone]
Downey, CA (now Irvine, CA)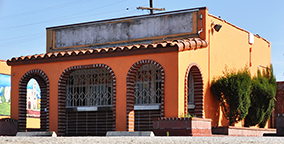 This Taco Bell was the first location in the chain. It opened in 1962. It has not been a Taco Bell for many years. The building has housed other Mexican takeout restaurants since then. In 2014, the building was vacant and endangered. Taco Bell decided to move the building to its corporate headquarters in Irvine, CA. It is currently in storage. For more, see this website.
Taco Bell [gone]
Los Angeles, CA
This Taco Bell had not changed all that much since the company's early design. These photos are from 2008. By 2012, this location had closed and the building was remodeled for a Thai restaurant. The sign was gone. These plastic signs are incredibly rare now. The only other one that I know of that is still in use is in Savannah, GA. There were others until a few years ago in Wilmington, DE and Wausau, WI. For more, see this website.
Taco Bell
Santa Barbara, CA
This Taco Bell still has a bell at the top of the building. If it's not the original, it's a very close copy. I don't know of any other locations that still have that. For more, see this website. [map]
This Taco Bell has been there since at least 1966. The logo on the sign was used from 1985-1994. This would have been a pole sign originally with "Drive Thru" at the bottom. [map]
Taco Bell model
San Diego, CA
former Taco Bell
Phoenix, AZ
This Taco Bell model is located behind a modernized Taco Bell. It was installed around 2008. It is a tribute to this location which was the first Taco Bell in San Diego, built in 1965. The model appears to be function as a utility box. [map]

This former Taco Bell has housed Best of Philly since 1995. The sign was repurposed with new panels and the building has been remodeled a bit. This sign was one of the earliest with the bulb-studded abstract serape. The Mexican was painted over on these signs Taco Bell due to public pressure. For more, see this website. [map]
former Taco Bell
Milwaukie, OR
This former Taco Bell still has the original patio and fire pit. The building now houses Rigoberto's Taco Shop. There are very few Taco Bell locations still housed in these buildings. Most of the survivors house other restaurants now. I don't know of any still-operating Taco Bells that still have fire pits. [map]
former Taco Bell
Santa Fe Springs, CA
This former Taco Bell also has the original fire pit, now used as a planter. The building now houses Alberto's Mexican Food. Very few former Taco Bells still have firepits and I don't believe any operating locations still have them. A few are listed in the blue box below. [map]
More former and still-operating Taco Bells:
Goleta, CA
Norwalk, CA
Pomona, CA
Lakewood, CO
Tampa, FL
Honolulu, HI
Waukegan, IL
Hamilton, OH
Tulsa, OK
Tulsa, OK
Mesquite, TX
Longview, WA
If you know of any other surviving firepits, bells, or curved roof projections that held the bells, I'd love to hear from you.
RoadsideArchitecture.com

Copyright. All photos at this website are copyrighted and may only be used with my consent. This includes posting them at Facebook, Pinterest, blogs, other websites, personal use, etc.

Tips & Updates. If you have suggestions about places that I haven't covered, historical info, or updates about places/things that have been remodeled or removed, I'd love to hear from you: roadarch@outlook.com.