(hit "refresh" to get the most recent version of this page; click on photos for larger images)
Dairy Delite/Gyro King [gone]
Frederick, MD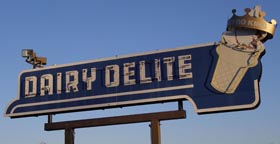 The Dairy Delite/Gyro King sign was originally built as a Dairy Queen rooftop sign. I don't know when the sign was adapted. It's possible that the road was widened, or for some other reason, the stores were rebuilt further back from the road. This combo ice cream and gyro shop was part of a strip mall now. By 2017, the business and sign were gone.
York Street Treat
Hanover, PA
York Street Treat is probably an altered Dairy Queen based on the sign and building design. However, I have been told that this was originally Farley's Twistee-Treat. [map]
Frigid Whip [gone]
Tell City, IN

2006:
2010: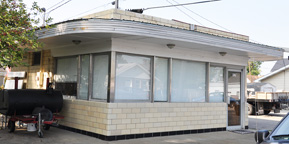 This Frigid Whip stand was home to the Christian Connections religious store in 2006. There have been several small businesses there since then. Around 2009, the sign was sold on eBay. The building is still there. I don't know if there was ever a Frigid Whip chain or if this sign was an adapted Dairy Queen sign. [map]
Dairy Freeze
Alta Vista, VA
Dexter Queen
Dexter, MO
The Dairy Freeze building and sign are unique and vintage enough that I doubt it was ever part of a chain. [photo thanks Robby Delius] [map]

The Dexter Queen opened as the Daisy Queen in 1949. The name was changed to Dexter Queen in 1950. [map]
Dari Crest
Covington, KY
The Dari Crest rooftop sign was repainted sometime between 2007 and 2009. The building design looks 1950s or so. For more, see this website. [map]
Victoria's Delite
Parma, OH
Victoria's Delite may have been part of a chain but I don't recognize this sign or building. Does anyone know more about this place? The building was apparently built in 1952. The building is currently vacant. The sign was removed in 2021. [map]
Baskin-Robbins was founded in California in 1953. By the mid-1960s, there were more than 400 stores nationwide. Today, there are nearly 6,000 locations globally. The company is now owned by Dunkin' Brands which also owns Dunkin' Donuts. The surviving Baskin-Robbins' early A-frame buildings are now extremely rare. I believe the company built them in the 1960s. There are only six of these buildings left that I know of. Three of them are still operating as Baskin-Robbins locations. For more, see these websites: 1 and 2.
Baskin-Robbins
Ventura, CA
Baskin-Robbins
Oxnard, CA
2012:
2018:
2012:
2018:
former Baskin-Robbins
Anaheim, CA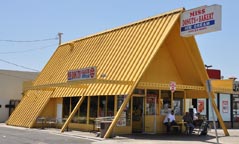 This Baskin-Robbins building in Ventura was built in 1960. At one time, the roof was painted with pink, brown, and white stripes, a reference to strawberry, chocolate, and vanilla ice cream. By 2006, the building was painted yellow and an addition was made to the back part of the building. Around 2018, new logo signs were installed. For more, see this website. [map]

The metal roof at the Baskin-Robbins in Oxnard has been covered with shingles. The metal wing on the right has been missing since at least 2008. Around 2016, the building was repainted and a new logo sign was installed on the front. [map]

This former Baskin-Robbins in Anaheim now houses Miss Donuts & Bakery. [map]
former Baskin-Robbins
Montebello, CA
former Baskin-Robbins
El Paso, TX
This former Baskin-Robbins building in Montebello now houses an Albert's Mexican Food. [map]

This former Baskin-Robbins building in El Paso now houses the House of Taste. The building was housing a Mexican restaurant in 2007. I don't know of any other Baskin-Robbins A-frames which were built outside of California. [map]
Baskin-Robbins
Gardena, CA

2008:
2013: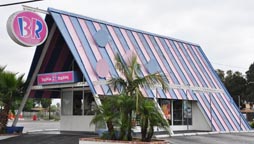 2015:
This Baskin-Robbins building is the most intact example of the company's A-frame design. Between the 2008 and 2013 photos above, the signs had been updated and the building was repainted. In 2014, the building was repainted again. [map]
Baskin-Robbins
Los Angeles, CA
Baskin-Robbins
La Mesa, CA
This Baskin-Robbins in Los Angeles was built in 1962. Around 2020, the bulb letters were replaced with backlit plastic letters. For more, see this website. [map]

The Baskin-Robbins in La Mesa has the same style sign. I don't know of any others like this except for one in El Centro, CA which was adapted. [map]
RoadsideArchitecture.com

Copyright. All photos at this website are copyrighted and may only be used with my consent. This includes posting them at Facebook, Pinterest, blogs, other websites, personal use, etc.

Tips & Updates. If you have suggestions about places that I haven't covered, historical info, or updates about places/things that have been remodeled or removed, I'd love to hear from you: roadarch@outlook.com.