(hit "refresh" to get the most recent version of this page; click on photos for larger images)
Streetcar Named Desire [gone]
Chatham, VA
Garner's Streetcar Diner
Chatham, VA
I'll bend the rules a little to include these two diners. They are not "true" diners (pre-fabricated units) but rather converted street cars.

The Streetcar Named Desire started out as a streetcar in Reidsville, NC. It was brought here and converted to a diner in 1937. It operated as Bill's Diner through the 1970s and then was sold and renamed in the 1980s. This diner had been vacant for many years. This photo is from 2007. It was gone by 2011. I don't know if it was demolished or moved.

Garner's Streetcar Diner was built in 1923 and served as a Birney streetcar in Danville, VA until 1938. In 1939, it was brought here and converted into a diner. It operated as Burnett's Diner until the 1960s. More recently, it has been known as Garner's Streetcar Diner. However, as of 2007, it doesn't appear to be in use. In 2021, the street car was removed for restoration. The new location has not yet been determined. For more, see these websites: 1 and 2.
Hunan Diner
Colonial Beach, VA
The Hunan Diner is a Silk City from the 1940s. It is now used for storage for the adjacent restaurant. [map]
Little Chef Diner
Danville, VA
This Little Chef Diner is another Valentine from 1952. It was moved to its current spot in the 1960s from its original location in Danville. These photos are from 2007. The diner has been painted pink since then. The diner closed in 2015. The owners were hoping to reopen by 2017. The diner has been painted pink but it remains vacant. For more, see this website. [map]
The Exmore Diner opened here in 1954. It is a Silk City from around 1947 that was originally installed in NJ. For more, see these websites: 1 and 2. [map]
29 Diner
Fairfax, VA
The 29 Diner is a Mountain View from 1947. It is also known as the Tastee 29 Diner. The "29" refers to the diner's location on Route 29. It is listed on the National Register of Historic Places. [map]
former Sandy's Diner [gone]
Front Royal, VA
The former Sandy's Diner is a Mountain View from 1956. It may have been the Mount Vista Diner originally. The diner was used as the office for the Virginia Auto Group used car lot for many years. These photos are from 2008. In 2013, this diner was removed from the site and put in storage in either Virginia or Pennsylvania.
L&S Diner
Harrisonburg, VA
The L&S Diner was built on-site in 1947. [map]
Hillsville Diner
Hillsville, VA
The Hillsville Diner is a 1920s O'Mahony. It was originally in Mt. Airy, NC and was moved here in 1946. The interior has a marble counter, oak cabinets and black and white tiles. The entrance features a sliding door. [map]
Stone's Downtown Diner
Hopewell, VA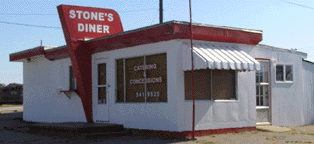 Stone's Downtown Diner is a Little Chef, built by Valentine in 1952. It was originally called the Little Chef Diner, then became the N&M Diner, and then the Stone's Downtown Diner. In 2018, it reopened as Blake's Diner. It now houses the Roja Taco Joint. For more, see these websites: 1 and 2. [map]
RoadsideArchitecture.com

Copyright. All photos at this website are copyrighted and may only be used with my consent. This includes posting them at Facebook, Pinterest, blogs, other websites, personal use, etc.

Tips & Updates. If you have suggestions about places that I haven't covered, historical info, or updates about places/things that have been remodeled or removed, I'd love to hear from you: roadarch@outlook.com.