(hit "refresh" to get the most recent version of this page; click on photos for larger images)
former Valentine diner
Amarillo, TX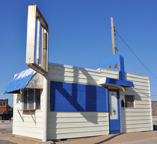 This former Valentine diner has been boarded up and vacant since at least 2010. For more, see this website. [map]
El Padrino
Dallas, TX

2011:
2017:
El Padrino is housed in a Valentine Diner from 1949. The interior features the original cabinets and wall safe. The diner was painted pink and blue in 2007. In 2015, the diner was painted blue and orange. [map]
Wingfield's Breakfast & Burgers
Dallas, TX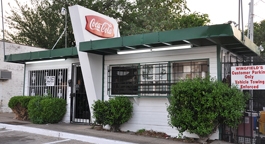 Wingfield's Breakfast & Burgers is housed in a Valentine Diner, built in the early 1960s. It has been Wingfield's since around 1994. [map]
Carla's Diner
Estelline, TX
Carla's Diner is another Valentine diner. It has gone by different names over the years including the "Hungry Valentine Diner" and "Paula's Slow Down Diner". The diner was previously located in Memphis, TX. For more, see this website. [map]
Sugar Cookie Confections
Lufkin, TX
Sugar Cookie Confections is housed in a Valentine Diner, probably from the 1950s. This business opened in 2010. The building previously housed the Downtown Diner. [map]
former Cafe Viejo San Juan
Waco, TX

2011:

2018:
The Cafe Viejo San Juan occupied this Double Deluxe Valentine diner in 2011. It was previously known as Fran's Diner and El Pollo Norteno. By 2013, the building had been painted white and red. It was vacant again. By 2016, the windows were boarded up. The building remains vacant. [map]
Hullabaloo Diner
Wellborn, TX
The Hullabaloo Diner is a DeRaffele diner from 1950. It was originally installed Albany, NY where it was known as Reilly's Diner. It was later known as Little Nick's, Carol's and Wolff's Diner. In 2005, it was moved here. For more, see this website. [map]
Pioneer Diner
Wichita Falls, TX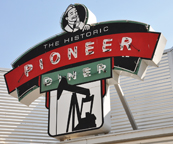 the "green diner":
the "red diner":
The Pioneer Diner opened in 2005 as the Pumpjack Diner. The Pumpjack closed in 2006 and reopened in 2008 as the Pioneer Diner. There are two fully-restored diners at this location. The "green diner" is the former Brandywine Diner, a 1954 Mountain View from Wilmington, DE. The "red diner" is the former Gatehouse Diner, a 1955 O'Mahony from Dayton, OH. Both were restored by Steve Harwin of Diversified Diners. Just a month after these photos were taken in 2011, the Pioneer Diner closed. The diners were still vacant in 2016. In 2017, the diners reopened as the Sidecar Brewery but that business lasted less than a year. The diners were still vacant in 2018. In 2019, one of the diners opened as Emanuel #3 restaurant. [map]
RoadsideArchitecture.com

Copyright. All photos at this website are copyrighted and may only be used with my consent. This includes posting them at Facebook, Pinterest, blogs, other websites, personal use, etc.

Tips & Updates. If you have suggestions about places that I haven't covered, historical info, or updates about places/things that have been remodeled or removed, I'd love to hear from you: roadarch@outlook.com.