(hit "refresh" to get the most recent version of this page; click on photos for larger images)
KJ's Airport Diner
Shirley, MA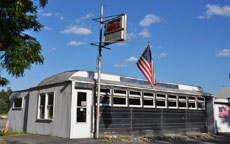 KJ's Airport Diner is a Worcester from 1933. It was previously located in Clinton, MA where it was known as the White Elephant Diner. It was moved here in the 1970s or 1980s. [map]
Blue Belle Diner
Shrewsbury, MA

2007:
2011:
The Blue Belle Diner is a Worcester (#814), built in 1948. It was originally located in Worcester, MA and closed in 1998. It was moved to a car dealership in Shrewsbury, MA. In 2001, it was moved to Milford, MA where there were plans to restore it. It sat for several years in Princeton (top row of photos). In 2009, the diner was moved back to Shrewsbury (bottom photos) to Dinky's Restaurant where it is used as additional seating. For more, see this website. [map]
Edgemere Diner
Shrewsbury, MA (now New York)

2003:
2010 & 2011:
The Edgemere Diner is a Fodero from 1940. It had been here since 1954. It was previously located in the Boston area where it was known as the Englewood Diner. The diner was sold to the city in 1995 and closed in 2005. It reopened in 2008 as "The Edge" which focused on hot dogs rather than normal diner fare. In 2014, new owners reopened it as a diner again. The name, Edgemere Diner, was also back. In 2021, the diner was sold. It will be moved to the Catskills in New York and restored. The eventual location is not known yet. The sign was also sold and will be repurposed by a nearby business. For more, see these websites: 1, 2, and 3.
Buddy's Diner
Somerville, MA
Buddy's Diner is a Worcester (#624) from 1930. It was originally located in Leominster, MA and moved here in 1951. It still features the original sliding front door. For more, see this website. [map]
Rosebud Diner
Somerville, MA
The Rosebud Diner is a semi-streamlined Worcester (#773) from 1941. It was converted to a bar and lounge in 1957. In the early 1990s, it served as a Tex-Mex restaurant for a few years. In the late 1990s, it was restored as a diner. The diner was listed on the National Register of Historic Places. In 2013, the diner was sold. The following year, the interior was completely gutted. The exterior remains the same with the plastic text panel beneath the neon changed to "American Kitchen & Bar." [map]
Sisson's Diner
South Middleboro, MA
2004:
Sisson's Diner was originally a trolley car, produced by Wason in the 1910s. It was converted into a diner in 1926. The diner was repainted bright yellow around 2008. It was closed when these photos were taken in 2010. It was still vacant in 2018. [map]
RoadsideArchitecture.com

Copyright. All photos at this website are copyrighted and may only be used with my consent. This includes posting them at Facebook, Pinterest, blogs, other websites, personal use, etc.

Tips & Updates. If you have suggestions about places that I haven't covered, historical info, or updates about places/things that have been remodeled or removed, I'd love to hear from you: roadarch@outlook.com.