(hit "refresh" to get the most recent version of this page; click on photos for larger images)
Mullens Dining Cars
Buellton, CA (now Arroyo Grande, CA)
(now Palm Desert, CA)

I'll include this place since California has so few "true" diners. The Mullens Dining Cars opened in 1946 alongside Highway 101. Ed Mullens built this restaurant with two scrapped streetcars from Los Angeles. The business venture failed and a new owner gave it a shot in 1955. Shortly after that, highway expansion virtually cut off access to the place. The restaurant had been abandoned since 1958. These photos are from 2008. In 2012, the streetcars were purchased and moved to Morro Bay, CA. They sat for a while as hopes to restore them and reopen them as a diner faded. In 2013, they were moved to the Bitter Creek Western Railroad in Arroyo Grande, CA. The sign has been on display inside Wilma & Frieda's Cafe in Palm Desert, CA since at least 2016. [map]
Standard Diner [gone]
Fresno, CA

2008:
The former Standard Diner was created from two Fresno trolley cars: one from 1912, the other from 1925. It opened in 1936. Although I usually only include "true" diners in this section, I'll make an exception for this one. In 1968, it became Trolley Car Carole's. The restaurant has been closed for many years. In 2013, just before the photos above were taken, the interior was damaged in a fire. Since 2016, the trolley cars had been boarded up and surrounded by chain link fencing. By 2020, they were gone. I have a feeling that they were demolished. For more, see these websites: 1, 2, and 3.
Phil's Diner
North Hollywood, CA

2012:
2016:
2020:
| | |
| --- | --- |
| 2021: | 2022: |
| | |
Phil's Diner is believed to have been built in the 1920s by Charles Amend. It was at a different location in North Hollywood when it closed in 1998. After being restored, the diner was moved here in 2010. The original neon sign was stolen in 2008 and was recreated by the new owners. Phil's Diner reopened in 2011 but closed just a few months later. It was still vacant when these 2012 photos were taken. In 2015, the place reopened as Sweetie Pie's. In 2017, that business closed and the diner was vacant. The replica sign is now on display at the Valley Relics Museum in Van Nuys, CA. In 2018, the place reopened as the Paleo Diner. By 2019, it was housing Jeje Chicken. By 2021, the building was vacant again. In 2022, the diner began housing Bruxie, a chicken and waffles restaurant. For more, see these websites: 1, 2, and 3. [map]
Grubstake Diner
San Francisco, CA
The Grubstake Diner was built as a lunch wagon, manufactured for use as a small diner. It was in operation by 1919 as Dan's Diner. Despite all the misinformation out there, this was never a railcar, dining car, or cablecar. Later, the diner operated as the Red Caboose and the Orient Express. In 1967, it became the Grubstake II. For more, see this website. [map]
Red Wagon Cafe
Shafter, CA
The Red Wagon Cafe is another streetcar restaurant (not a "true" diner). I believe this Pacific Electric trolley car was built in the 1910s. It has been here since 1943. It has been in use as the Red Wagon Cafe since at least the 1980s. For more, see these websites: 1 and 2. [map]
Andy's Truckee Diner
Truckee, CA

2008: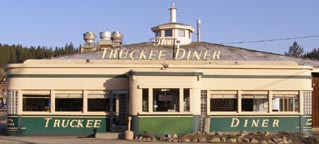 Jax Diner

2014:

This Kullman diner was built in 1948. It was originally located in West Chester, PA where it was known as the Birmingham Grille. It was moved here in 1995. The diner's original stainless-steel exterior was replaced with green porcelain panels at that time. It opened as Andy's Truckee Diner. In 2009, it was was renamed JAX at the Tracks. For more, see this website. [map]
Formosa Cafe
West Hollywood
The Formosa Cafe has a 1902 Pacific Electric streetcar which was converted to dining space. It has been there since 1925 when it was used for the Red Post Cafe. For more, see these websites: 1 and 2. [map]
RoadsideArchitecture.com

Copyright. All photos at this website are copyrighted and may only be used with my consent. This includes posting them at Facebook, Pinterest, blogs, other websites, personal use, etc.

Tips & Updates. If you have suggestions about places that I haven't covered, historical info, or updates about places/things that have been remodeled or removed, I'd love to hear from you: roadarch@outlook.com.