(hit "refresh" to get the most recent version of this page; click on photos for larger images)
J.C. Penney [gone]
Alamosa, CO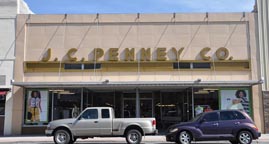 This J.C. Penney closed in 2019. The letters were gone by 2021 but the tile remains. [map]
J.C. Penney
Sidney, MT

This J.C. Penney was built in 1927 and closed in 2017. The building now houses an Anytime Fitness but this sign remains. There were 43 J.C. Penney stores built in Montana. There are only three still operating, in Kalispell, Great Falls, and Billings. These are all mall locations with neither vintage buildings or signs. For more, see this website. [map]
J.C. Penney opened in Williston in 1916. It was rebuilt at the same location after a fire in 1941. The store moved to this location in 1961. [map]
J.C. Penney
La Grande, OR
J.C. Penney
Astoria, OR
This still-operating J.C. Penney store in La Grande has a 1950s looking facade. In 2017, the store closed. The J.C. Penney letters were removed from the building. [map]

This still-operating J.C. Penney store in Astoria is probably from the 1950s. In 2017, it was announced that this store would be closing. In 2019, the letters were still there and the building was vacant. [map]
former J.C. Penney
Medford, OR
This J.C. Penney department store was built in 1948. In 1986, the store closed and moved to the Rogue Valley Mall. A few years later, the building was purchased by the Southern Oregon Historical Society and converted into the History Center. It now houses the Kid Time Children's Museum. For more, see this website. [map]
former J.C. Penney
Kingsport, TN
This former J.C. Penney store in Kingsport was occupied by Paul Bellamy's Furniture for many years. The building was vacant by 2018. [map]
This J.C. Penney store was built in 1910 as a Golden Rule store. This was the twelfth J.C. Penney location to be built. These photos are from 2014. The store closed in 2015. In 2021, the signs were still there and the building was vacant. [map]
J.C. Penney
Helper, UT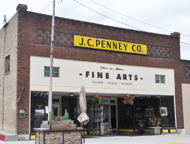 In, 2019, this J.C. Penney sign was installed on this building from 1927 which originally housed a J.C. Penney store. For more, see this website. [map]
former J.C. Penney
Ephrata, WA
former J.C. Penney
Ashland, WI
This former J.C. Penney store in Ephrata has been closed since at least 2007. [map]

This J.C. Penney in Ashland department store opened in 1925. This photo is from 2011 when the store was still in operation. It 2011, it was announced that the store was closing. There was also a sign behind the building which I missed. By 2015, the signs were gone. The building now houses Bob's Factory Outlet. [map]
J.C. Penney
Kemmerer, WY
The J.C. Penney chain was founded in 1902 at this store in Kemmerer. The "mother store" was originally known as a Golden Rule store. The name was changed to J.C. Penney in 1913. The store is the oldest location still in operation. The first photo shows the Pine St. facade. The second photo shows the remodeled facade on J.C. Penney Dr. A statue of the founder, James Cash Penney, is installed in the park next to the store. For more, see this website. [map]
J.C. Penney [gone]
Sheridan, WY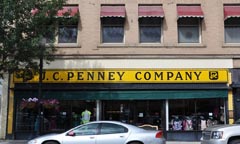 This J.C. Penney store in Sheridan opened in 1907 as a Golden Rule store. It was renamed as a J.C. Penny store in 1928. This sign was originally installed in The Dalles, OR. It was later installed in Albany, OR. It was then moved to Sheridan. In 2017, the store closed and the sign was removed. It is now in storage at Henry's Garage, a corporate events facility, in Billings, MT. The sign may be displayed inside in the future.
RoadsideArchitecture.com

Copyright. All photos at this website are copyrighted and may only be used with my consent. This includes posting them at Facebook, Pinterest, blogs, other websites, personal use, etc.

Tips & Updates. If you have suggestions about places that I haven't covered, historical info, or updates about places/things that have been remodeled or removed, I'd love to hear from you: roadarch@outlook.com.