(hit "refresh" to get the most recent version of this page; click on photos for larger images)
Ohio Judicial Center
Columbus, OH
The Ohio Judicial Center building houses the Ohio Supreme Court. It was built from 1929-1931. It was originally known as the Ohio State Office Building. The interior features incredible murals and other details. For more, see these websites: 1, 2, and 3. [map]
Old Port Columbus Airport Terminal and Control Tower
Columbus, OH
The Old Port Columbus Airport Terminal and Control Tower building was constructed in 1929 and remained in operation until 1958. This was one of the first airports in the U.S. It was a combination railroad station and airport terminal. Small, private aircraft still use the runway. The building is now used for private office space. For more, see this website. [map]
Hightech Signs
Columbus, OH
Dayton Gym Club
Dayton, OH
The Hightech Signs building was constructed in 1949. Does anyone know what the original occupant was? This building has been vacant for many years. [map]

The Dayton Gym Club was built in 1952 and features relief panels depicting men in several athletic activities. Their style is Art Moderne so I will include this place here rather than in the Mid-Century section. This building was purchased in 2008 by the Dayton Theatre Guild. There was a neon sign which is gone now. [map]
Leslie L. Diehl Bandshell
Dayton, OH
The Leslie L. Diehl Bandshell was built as a WPA project in 1940. It was restored in 1995. [map]
House
Delphos, OH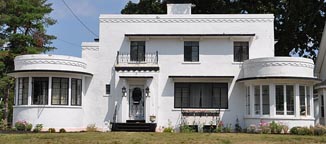 This House is a mix of styles but it appears to be from the Art Deco era. It could also be a conventional older house updated with Art Deco trim and the addition of the two round structures at the building's sides. Does anyone know the history of this place? [map]
Armco Research Building
Middletown, OH
The Armco Research Building was built in 1937. The building is faced with steel panels. Armco (the American Rolling Mill Company), a steel producer, was acquired by AK Steel in 1999. [map]
Telephone Building
Newark, OH
The Telephone Building appears to be from the 1920s or 1930s. [map]
Sparta Grille & Newark Coin Exchange [gone]
Newark, OH
The Sparta Grille and the Newark Coin Exchange were next door neighbors. These businesses occupied what appeared to be older buildings which were updated in the 1930s or so. The Newark Coin facade was installed in 1938 for the Newark Savings and Loan Co. These businesses had typical Art Deco storefront elements: vitrolite tile, glass block, and terrazzo entrances. These photos are from 2009. The Newark Coin facade was removed in 2019. By 2021, the Sparta vitrolite was gone as well. For more, see these websites: 1 and 2.
Kirby's Flowers & Gifts
Portsmouth, OH
IAB Club Building
Sandusky, OH
The Kirby's Flowers & Gifts building is also faced with vitrolite. The building was constructed in 1938. I believe Kirby's is the original tenant. [map]

The IAB Club Building housed the Italian American Beneficial Club when it was built in 1941. It recently housed the Cheap Seats sports bar. The building appeared to be vacant when this photo was taken in 2012. It was still vacant in 2019. [map]
RoadsideArchitecture.com

Copyright. All photos at this website are copyrighted and may only be used with my consent. This includes posting them at Facebook, Pinterest, blogs, other websites, personal use, etc.

Tips & Updates. If you have suggestions about places that I haven't covered, historical info, or updates about places/things that have been remodeled or removed, I'd love to hear from you: roadarch@outlook.com.