(hit "refresh" to get the most recent version of this page; click on photos for larger images)
Fraternal Order
of Eagles
Fremont, NE
State Capitol Building
Lincoln, NE
This Fraternal Order of Eagles building is probably from around the 1930s. [map]

The State Capitol Building was designed by Bertram Goodhue. It was built from 1922-1932. For more, see these websites: 1, 2, 3, and 4. [map]
Agee's Automotive Repair & Towne Parking
Lincoln, NE
These two buildings house Agee's Automotive Repair and Agee's Towne Parking. They appear to be from the 1920s or 1930s. Does anyone know what businesses were here originally? [map]
Telephone Building
McCook, NE
The Telephone Building appears to be from the 1920s or 1930s. [map]
Charlie Graham Body and Service [gone]
Omaha, NE
Charlie Graham Body and Service has been here since 1969. The sign is believed to be from then. This building was constructed in 1942 as a Hinky-Dinky Supermarket. Hinky-Dinky had 12 stores in Nebraska. Charlie Graham's animated sign was installed when the body shop opened. The sign is animated with the neon alternating back and forth between a crunched car and fixed one. The sign was restored in 2009. In 2016, it was announced that Charlie Graham would be moving. By 2019, this building had been demolished and the store had moved across the street. The sign was installed on the new building. In 2020, the sign was removed and moved to the Durham Museum. For more, see these websites: 1 and 2.
Watson Brothers Transportation Company
Omaha, NE
The Watson Brothers Transportation Company was a trucking company. The buildings at this stie were built in phases from 1938-1948. The building shown above was probably built in or remodeled around 1947. It now houses the Parks Maintenance Building. For more, see this website. [map]
former Union Station
Omaha, NE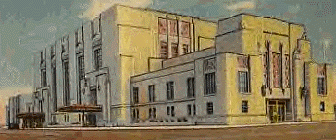 Union Station was built in 1931 and operated until 1971. The building was restored in 1996 and now serves as the Durham Western Heritage Museum. The building is listed on the National Register of Historical Places. For more, see these websites: 1, 2, and 3. [map]
RoadsideArchitecture.com

Copyright. All photos at this website are copyrighted and may only be used with my consent. This includes posting them at Facebook, Pinterest, blogs, other websites, personal use, etc.

Tips & Updates. If you have suggestions about places that I haven't covered, historical info, or updates about places/things that have been remodeled or removed, I'd love to hear from you: roadarch@outlook.com.