(hit "refresh" to get the most recent version of this page; click on photos for larger images)
Daily Express Building
Kirksville, MO
The Daily Express Building was designed by Bonsack & Pearce and built from 1930-1936. The building houses the publishing offices of the local newspaper. [map]
unidentified building
Macon, MO
This unidentified building features a Streamline Moderne structure attached to a Quonset hut. Does anyone know the history of this place? The building now houses Huffman Auto Sales. [map]
Municipal Auditorium
Moberly, MO
Renick School
Renick, MO
The Municipal Auditorium was also designed by Abt and built in 1939 as a WPA project. [map]

The Renick School was designed by Ludwig Abt and built in 1943. [map]
Boonslick Regional Library
Sedalia, MO
The Boonslick Regional Library was previously a tool store and later housed an auto parts store. Does anyone know what was here originally and when the storefront and sign were adapted for the library? [map]
Vandeventer Building
St. Louis, MO
The Vandeventer Building was built in 1935. It originally housed the Victor Creamery Company. The building housed the Los Arcos del Caporal, a Mexican restaurant, when these photos were taken in 2010. The business has changed at least twice since then but the building still houses a Mexican restaurant. For more, see this website. [map]
Continental Life Building
St. Louis, MO
The Continental Life Building was designed by William B. Ittner and completed in 1930. The building was converted into apartments around 2001. For more, see this website. [map]
Progressive Cafeteria & Banquet Center [gone]
St. Louis, MO
The Progressive Cafeteria & Banquet Center originally housed the Pine Lawn Bank & Trust. This building had been vacant since at least 2005 and probably much longer than that. It was demolished in 2013. For more, see this website.
LeGrand's Market
St. Louis, MO
LeGrand's Market was built as a Tom-Boy supermarket in 1936. In 1990, the name was changed to LeGrand's. Tom-Boy was a St. Louis area regional chain with more than two dozen locations. I don't believe there are any locations left. For more, see this website. [map]
Vestal Chemical Company
St. Louis, MO
The Vestal Chemical Company building appears to be from the 1920s or 1930s. It was vacant when this photo was taken in 2012. By 2017, the building was housing an EZ Storage. [map]
Calgon-Vestal Building [gone]
St. Louis, MO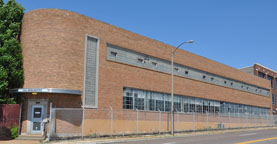 The Calgon-Vestal Building was built in 1950. It was located next door to the building described directly above. The building must have been part of a company expansion. It was vacant when this photo was taken in 2012. It was demolished around 2015.
DeBaliviere Building
St. Louis, MO
The DeBaliviere Building was designed by Isadore Shank and built in 1928. The building features glazed and unglazed terra cotta details. [map]
RoadsideArchitecture.com

Copyright. All photos at this website are copyrighted and may only be used with my consent. This includes posting them at Facebook, Pinterest, blogs, other websites, personal use, etc.

Tips & Updates. If you have suggestions about places that I haven't covered, historical info, or updates about places/things that have been remodeled or removed, I'd love to hear from you: roadarch@outlook.com.