(hit "refresh" to get the most recent version of this page; click on photos for larger images)
United States Post Office & Court House
Alexandria, LA
This United States Post Office & Court House was designed by Edward F. Neild and built in 1932. For more, see this website. [map]
Louisiana State Capitol
Baton Rouge, LA
The Louisiana State Capitol was designed by Weiss, Dreyfous and Seiferth and built in 1931. For more, see this website. [map]
St. Helena Parish Courthouse
Greensburg, LA
The St. Helena Parish Courthouse was built from 1936-1938 with WPA funding. [map]
Mama's Place
Metairie, LA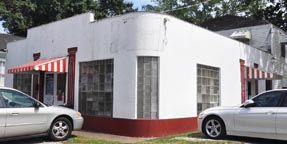 The Mama's Place bar opened here in 1946. This building appears to be from then or around then. For more, see this week. [map]
The Frances Tower was designed by Wyatt C. Hedrick & Co. It was built in 1931 as the Hotel Frances. It is now used for apartments. There was originally a scaffold sign on the roof and a beacon of light pointed at the sky which could be seen for 50 miles away. For more, see this website. [map]
Post Office and Courthouse
Monroe, LA
The Post Office and Courthouse was designed by James A. Wetmore of J.W. Smith & Associates. It was built from 1932-1934. [map]
Gymnasium
Napoleonville, LA
This Gymnasium was built in the 1930s. It was funded by the Public Works Administration. [map]
Natchitoches Parish Court House
Natchitoches, LA
The Natchitoches Parish Court House was designed by J. W. Smith and Associates and built from 1939-1940. This building was also funded by the Public Works Administration. [map]
Wormser's Department Store
New Iberia, LA
Wormser's Department Store occupied these two buildings. I can't find anything about the apparently older building on the left. It is now "Susan's", a women's clothing store. The Art Deco building on the right with the terrazzo floor sold "Smart Ladies' Wear". It is listed on the National Register of Historic Places. As of 2010, the building now houses Main Street Fitness. If anyone has more info, I'd love to hear from you. [map]
Light & Water Plant [gone]
Rayville, LA
The Light & Water Plant was designed by C. A. Peerman and built from 1939-1940 as a PWA project. It was demolished in 2021. For more, see this website.
Municipal Memorial Auditorium
Shreveport, LA
The Municipal Memorial Auditorium was completed in 1929 and is considered the finest example of Art Deco in Louisiana. The building has been used for a wide variety of events over the years including circuses, rallies, sporting events, concerts, and theatre productions. Elvis Presley began his stage performance career here in 1954. Statues of Elvis and James Burton are installed in front of the building. For more, see these websites: 1 and 2. [map]
former Acme Locksmith
Shreveport, LA
Salvation Army
Shreveport, LA
The Acme Locksmith building has been vacant for many years. I believe that this building houses the Motors Securities Company loan office originally since newspaper advertisements from the late 1940s through 1960s show that's what was here then. [map]

The Salvation Army building was built in 1932. Around 2011, the building was converted into loft apartments. [map]
Masonic Temple
Shreveport, LA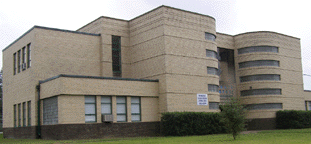 The Masonic Temple was built in 1937 and is considered Shreveport's best example of Moderne style. There was originally glass brick above the entrance. The building is listed on the National Register of Historic Places. [map]
Lafourche Parish Jail
Thibodoaux, LA
The Lafourche Parish Jail was built in the 1940s. [map]
RoadsideArchitecture.com

Copyright. All photos at this website are copyrighted and may only be used with my consent. This includes posting them at Facebook, Pinterest, blogs, other websites, personal use, etc.

Tips & Updates. If you have suggestions about places that I haven't covered, historical info, or updates about places/things that have been remodeled or removed, I'd love to hear from you: roadarch@outlook.com.