(hit "refresh" to get the most recent version of this page; click on photos for larger images)
Hole Mole
Long Beach, CA
Wiese & Wiese Building
Long Beach, CA
Hole Mole occupies this Art Deco looking building. Does anyone know what was here originally? [map]

The Wiese & Wiese Building was built in 1929. It was designed by Edwall J. Baume. [map]
Art Deco building
Long Beach, CA
2013:
2020:
This Art Deco building was built in the 1910s. After damage in the 1933 Long Beach earthquake, the building was remodeled in 1933 by Schilling and Schilling. At the time, it housed the Barker Brothers furniture store annex. The building was vacant in 2013. It had previously housed the Blue Cafe. The building was remodeled in 2016 to restore the original central fins and peaked windows. It now houses The Ordinarie. Unfortunately, a canopy was added later to the front of the building which obscures the grooved area above the entrance. For more, see this website. [map]
former Owl Drug store
Long Beach, CA
Buffums' Autoport
Long Beach, CA
This former Owl Drug store was built in 1940. The building housed an Olives Gourmet Grocer when this photo was taken in 2013. It now houses the Pietris Bakery. For more, see this website. [map]

Buffums' Autoport was designed by A.R. Bradner and built in 1941. It was designed as a parking garage for the adjacent Buffums' department store which was demolished in 1980. For more, see this website. [map]
Lindbergh Middle School
Long Beach, CA
The Lindbergh Middle School was built after the Long Beach Earthquake of 1933. The relief panel over the entrance pays tribute to Lindbergh's first solo flight across the Atlantic in 1927. [map]
Washington Middle School
Long Beach, CA
The Washington Middle School was built in 1921 as the American Avenue School. Later that year, it was renamed Washington Middle School. The buildings needed to be rebuilt after the 1933 Long Beach Earthquake. For more, see this website. [map]
Thomas Jefferson Middle School
Long Beach, CA
The Thomas Jefferson Middle School was destroyed in the 1933 earthquake. These buildings were designed by Warren Dedrick and constructed in 1937. [map]
Polytechnic High School Auditorium
Long Beach, CA
Marvin Apartments
Long Beach, CA
The Polytechnic High School Auditorium was built around 1935. The building now houses the Andrew Osman Performing Arts Center. For more, see this website. [map]

The Marvin Apartments were built in 1930. [map]
Siam Market
Long Beach, CA
This building which now houses the Siam Market was built in 1930. From at least the late 1940s through the late 1970s, this building housed the Repp Mott Auction House. I don't know if that was the original occupant. For more, see this website. [map]
Streamline Moderne apartments
Long Beach, CA
These Streamline Moderne apartments were built in 1939. [map]
Long Beach Airport
Long Beach, CA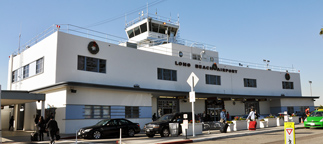 The Long Beach Airport was established in 1923. This terminal was built in 1941. It was designed by Austin & Wing. Decorative floor tiles are used throughout the building. For more, see these websites: 1, 2, 3, 4, 5, and 6. [map]
This Studio 7 hair salon appears to be Art Deco but it isn't. The building may have been built in the 1930s or 1940s. However, the stepped facade was created in the early 2000s. [map]
More Long Beach Art Deco & Streamline Moderne Buildings:
Queen Mary
RoadsideArchitecture.com

Copyright. All photos at this website are copyrighted and may only be used with my consent. This includes posting them at Facebook, Pinterest, blogs, other websites, personal use, etc.

Tips & Updates. If you have suggestions about places that I haven't covered, historical info, or updates about places/things that have been remodeled or removed, I'd love to hear from you: roadarch@outlook.com.