(hit "refresh" to get the most recent version of this page; click on photos for larger images)
Prior & Church Carousel
Cedar Point, OH
The Prior & Church Racing Derby was built in 1921. It is a four row, carousel with 64 jumpers (with seats built for two) carved by Illions, in track formation. There are only two racing derby style carousels still in operation – this one known as "Cedar Downs" and the other in Rye, NY.

The platform is a huge 93' in diameter (the largest made by Prior & Church). The eccentric drive creates back-and-forth as well as up-and-down motion of the horses – to simulate a horse race within each row. The horses move at about 14 mph. The carousel was located in Cleveland until 1965 when it moved here. It was restored in 1980.
figures at Cedar Point's Frontiertown Museum
Cedar Point, OH
The figure shown above (center and right) was removed from the Dentzel carousel and depicted on a U.S. postage stamp.

Cedar Point also had a carousel in Frontiertown that was sold off to Dorney Park in PA.
The Merry-Go-Round Museum
Sandusky, OH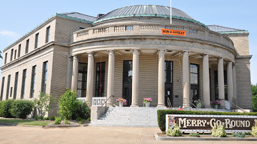 The Sandusky Museum's Herschell Carousel was built in the 1930s. It is a 3-row portable carousel with 28 jumpers, 2 menagerie figures (a pig and a mule), and 2 chariots. Some of the original horses are missing so the museum uses a mix of figures on loan. The original location of the carousel is unknown but it spent part of its life in Indianapolis.

The building that houses the museum is listed on the National Register of Historical Places. It was a post office from 1927-1987. It reopened as the Merry-Go-Round Museum in 1990. It is thought to be the only U.S. post office created with a rounded front – just the perfect size and shape to display a carousel. There are numerous styles of carousel figures on display as well as a carving/restoration workshop, and gift shop. For more, see their website.
RoadsideArchitecture.com

Copyright. All photos at this website are copyrighted and may only be used with my consent. This includes posting them at Facebook, Pinterest, blogs, other websites, personal use, etc.

Tips & Updates. If you have suggestions about places that I haven't covered, historical info, or updates about places/things that have been remodeled or removed, I'd love to hear from you: roadarch@outlook.com.