(hit "refresh" to get the most recent version of this page; click on photos for larger images)
Flying Horses Carousel
Oak Bluffs, MA
The Flying Horses Carousel is the nation's oldest operating platform carousel. It was built by Charles W.F. Dare in 1876 and brought here in 1884. There is a brass ring machine: snag the brass ring while the carousel is spinning to win a free ride. For more, see these websites: 1, 2, 3, and 4.
Fall River Carousel
Fall River, MA
The Fall River Carousel is a Philadelphia Toboggan Company Carousel (#54) from 1920. It has 48 horses, two spectacular chariots and a Wurlitzer Band Organ. The murals depict pastoral scenes and wildlife. It was completely restored in 1991 by the Carousel Works in Mansfield, OH at a cost of $250,000. A Victorian-style pavilion was built specifically for the carousel, placing it on the second floor to protect it from potential river flooding.
Paragon Carousel
Nantasket Beach
Hull, MA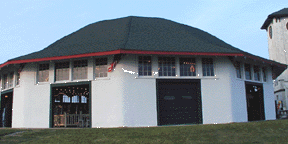 The Paragon Carousel was made by the Philadelphia Toboggan Company (#85) in 1928. It features two Roman chariots pulled by pairs of horses carved by the Dentzel Company. The carousel and its original building were moved here (a half block away) in 1984 when Paragon Park was sold to developers. 24 of the horses, one of the chariots, and the Wurlitzer organ have since been restored. There are 66 horses (42 jumpers and 24 standers) on this 4 row carousel. For more, see this website.
Salem Willows Amusement Park
Salem, MA
The Salem Willows Amusement Park acquired a Looff carousel in 1927. The figures have been replaced with aluminum Theel replicas.
RoadsideArchitecture.com

Copyright. All photos at this website are copyrighted and may only be used with my consent. This includes posting them at Facebook, Pinterest, blogs, other websites, personal use, etc.

Tips & Updates. If you have suggestions about places that I haven't covered, historical info, or updates about places/things that have been remodeled or removed, I'd love to hear from you: roadarch@outlook.com.