(hit "refresh" to get the most recent version of this page; click on photos for larger images)
former Greyhound Station
Greenwood, MS

2010:
2019: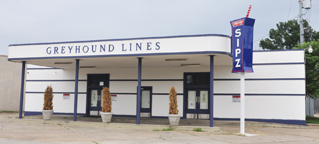 The Greenwood Greyhound station was designed by George Mahan and built in 1939. There was previously a Shell gas station on the site. After the bus station was built, Shell continued to sell gas there as well. Greyhound continued to operate out of the building until 2001. In 2007, the station was restored for reuse as office space for Mainstreet Greenwood. The paint scheme is the original. In 2019, the building began housing the Tasty Sipz daquiri shop. For more, see this website. [map]
former Greyhound Station
Gulfport, MS
The Gulfport Greyhound station was built in 1940. It was officially known as the Union Bus Terminal. When Greyhound moved out, Trailways operated out of the building from 1950s through the 1970s. The building is now used as office space and is known as the Hatten Building. For more, see this website. [map]
The Clarksdale station was built in 1942 and closed in 1980 when a new station was built. It was restored around 2002 and is nearly original inside and out. It now houses a city information center and is used for special events. This is supposedly one of four stations built of this design. However, the only ones that I know of that are similar but not the same are in Billings, MT; Charleston, WV; and Fort Wayne, IN. For more, see these websites: 1 and 2. [map]
The Jackson station was built from 1937-1938. This is the only station that Arrasmith designed with a structural glass faced exterior. Originally, the interior had a coffee shop with a horseshoe-shaped counter. The men's room had a shower, while the women's room had a bathtub. It was condemned when architect Robert Parker Adams bought the building in 1988. He restored it as office space for his architectural firm. This station is also part of desegregation history. Freedom Riders were arrested here for using white restrooms and waiting rooms. [map]
RoadsideArchitecture.com

Copyright. All photos at this website are copyrighted and may only be used with my consent. This includes posting them at Facebook, Pinterest, blogs, other websites, personal use, etc.

Tips & Updates. If you have suggestions about places that I haven't covered, historical info, or updates about places/things that have been remodeled or removed, I'd love to hear from you: roadarch@outlook.com.