(hit "refresh" to get the most recent version of this page; click on photos for larger images)
former Greyhound Station
Athens, GA

2009:

2021:

This former Greyhound Station was built in the early 1940s. Trailways and independent carriers also operated here. It was still operating as a bus station in 2013. Around 2015, the building began housing the Junkman's Daughter's Brother. The bus sign was gone but the building's canopy was still there. Around 2019, the front of the building was remodeled and began housing Chuck's Fish. A second canopy was added to the left side of the building (photos lower right). For more, see this website. [map]
Greyhound Station [gone]
Atlanta, GA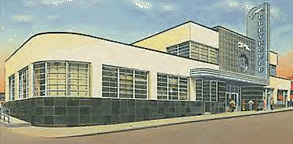 This Greyhound Station was designed by Arrasmith and opened in 1940. Unlike his other buildings, this one did not use glass block. Many design elements of this station were used in later ones like that in Cleveland, OH. The use of the Greyhound blue color was reintroduced with this building. The interior included a large restaurant, a barber shop, and a beauty parlor. What was left of this station was finally demolished around 2007.
This former Greyhound Station was built in the 1940s. It also served Trailways and other independent companies. By 1956, Greyhound had moved to a new location. Trailways and the other companies continued to use the station. In the late 1980s, the building was restored to function as a "Country's Barbecue" restaurant. It has a late 1940s Greyhound bus which has been converted into a dining area. There is also a mural inside depicting the original waitresses that worked at the Greyhound snack bar. Country's first opened in 1975 in Columbus and now has nine locations in Alabama. [map]
This former Greyhound Station was built in 1967. It closed in 2020. These photos are from 2021. [map]
Greyhound Station
LaGrange, GA
This Greyhound Station was built in 1940. The building has housed the Gay & Joseph law firm since at least 2008. [map]
former Greyhound Station
Savannah, GA

2005:
2007:
This Greyhound Station was built in 1938 as an Atlantic Greyhound station. It was designed by George D. Brown who was responsible for about 60 stations in the South. The Streamline Moderne building was faced with blue and ivory vitrolite and had a stainless-steel canopy. It also had a neon sign at one time. There was a vertical sign with a separate, animated running dog panel above it. There were "Greyhound Bus Depot" letters over the canopy. There was a restaurant inside. After the bus station closed, the building was used as a car sales room and garage. It was later remodeled for the Cafe Metropole restaurant which operated from 1997-2002 and featured outdoor dining in the loading dock area. The building was vacant after that. In 2007, the building had been stripped and boarded up. In 2014, the building had been completely renovated and opened for The Grey restaurant. The battered Greyhound terrazzo on the entrance apron was preserved. [map]
Greyhound Station
Savannah, GA
This Greyhound Station in Savannah was built in 1965. The building was restored in 2013 and now houses an intermodal transit center. The mid-century modern features and the sign were preserved. [map]
former Greyhound Station
Toccoa, GA
2008:
2021:
This Greyhound Station was built in 1949. The upstairs was used as a hotel. In 2008, the building was converted into a restaurant, bar and antiques shop known as Bus Stop Eats. By 2012, the place was known as the Bus Stop Diner. The building has been vacant since around 2013. [map]
RoadsideArchitecture.com

Copyright. All photos at this website are copyrighted and may only be used with my consent. This includes posting them at Facebook, Pinterest, blogs, other websites, personal use, etc.

Tips & Updates. If you have suggestions about places that I haven't covered, historical info, or updates about places/things that have been remodeled or removed, I'd love to hear from you: roadarch@outlook.com.