(hit "refresh" to get the most recent version of this page; click on photos for larger images)
From 2001-2007, my pack consisted of Gripper, Fix and Sputnik. I adopted Fix in 2001. Gremlin joined our pack at the end of 2007.
Fix (brindle), Sputnik (white & brindle) & Gripper (black & tan)
Misquamicut, RI
"the kids" in the new white van
Whitman, MA
Canton, OH
a "cornfield"
Dublin, OH
Columbus, IN
| | | |
| --- | --- | --- |
| Billings, MT | sniffin' in Wyoming | somewhere in Indiana |
| | | |
Natchez Trace Parkway, MS
Odell, IL
Blairstown, NJ
Zanesville, OH
with the Golden Driller
Tulsa, OK
Colorado City, TX
| | |
| --- | --- |
| Hutto, TX | Galveston, TX |
| | |
Surfside, TX
waiting for bites of beignet
from Café du Monde
New Orleans, LA
a 3-week roadtrip with the world whizzing by... trying not to miss anything
Oshkosh, WI
Louisville, KY
Boston Hills Pet Memorial Park
Hudson, OH
Madison, WI
Vulcan, MI
Congressional Cemetery
Washington, DC
Grand Rapids, MI
Tawas City, MI
Lake Michigan
Muskegon, MI
Hurricane Cemetery
Greenup, IL
running on old Route 66
Luther, OK
Sedona, AZ
Bedrock City
Valle, AZ
with the Kissmobile
Hershey, PA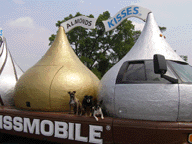 mornings in Prospect Park
ready to go
the crew and their bag of toys
enjoying a weekly treat: raw marrow bones
life is good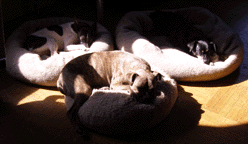 Why buy or breed when you can RESCUE?!